Sale of bikes, bike parts and old cycling kits on eBay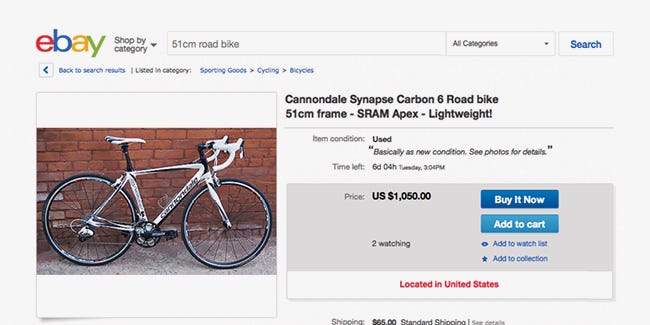 Pssssst– I have a secret: most cyclists are eBay fanatics.
And of course, the obsession is understandable. Aside from the excitement of hitting the refresh button again and again and watching those auctions skyrocket, eBay is a handy tool for taking the river of bike parts that runs through every rider's basement and turn everything into money. With two good racing seasons – read: "eBay seasons" – under my belt, I've picked up some ideas on how to tap into an online marketplace to clear inventory. Now eBay can be endlessly complex, and I'm not a pro, but here are some simple tips I can share. (For more general advice on initiation to cycling, The great cycling book for beginners is a great place to start.)
RELATED: How To Buy A Bike That Is Used, Not Abused
Getting started: don't worry about the details
For a long time, I procrastinated on eBay because I was intimidated by all the variables involved. In my mind, choosing an auction type, starting price, timing, and shipping method each presented an opportunity to miss a sale. But I have found using eBay to be more intuitive than expected, and the true market value of each item will shine despite the smoke and mirrors surrounding each transaction. Placing sub-optimal listings won't sabotage your eBay business, but procrastination and leaving all that garbage in your basement will.
Decide what to sell
Really, eBay makes sense for used cycling gear because it is largely specific, easy to describe, and expensive. The best items are those that someone across the country is likely to be looking for and willing to purchase based on a description only (transmission parts, for example). But eBay doesn't make sense for everything. Local classifieds like Craigslist are sometimes best for items that are difficult to ship (complete bikes, for example, especially the cheapest) or items that buyers will want to view in person (second-hand clothes, fancy it?).
Auctions versus fixed-price ads
With online auctions, the highest bid wins and there is no limit to the amount a buyer can pay for an item. These listings make sense for items that have high demand and are likely to generate a bidding war among many people. Auctions are also a good choice if you have a tight schedule and want to make sure that an item will sell out on a certain date. Fixed-price or "buy it now" ads provide the reverse assurance, that you won't have to sell something for an absurdly cheap price. These make sense for items that are less in demand or for low-priced items that a buyer will want to buy immediately instead of waiting for an auction to end.
Pricing: do your research
I do an "advanced search" on eBay for "completed listings" for almost every sale. If I see that similar items are selling well, I will set up an auction with a starting price as low as a dime. Not only does this lower eBay fees and build momentum by encouraging early bidding, but it's also exciting to watch. If no similar items are listed or they have sold poorly, setting up an auction with a low starting price is a bad idea. In these cases, I will set up an auction with a high starting bid or a simple fixed price ad.
RELATED: Your Guide to Buying a New Bike
Hourly
I schedule auctions to end on weekdays at 7:00 PM PDT, probably when a large chunk of buyers are awake and available to shop online. The second larger concern about the timing is seasonal. While it seems like a good idea to sell winter gear in the fall, holiday gadgets, and summer gear in the spring, I have found that the demand for good cycling gear is surprisingly stable, especially for listings offering international shipping.
Win the trust of buyers
Every offer or purchase requires a buyer's trust in the seller. Maintaining a positive feedback score is crucial, which is best achieved by providing full and honest item descriptions and ensuring prompt shipment and clear communication with every buyer. If you are new to eBay, do a little shopping and don't sell until you get positive feedback.
This content is created and maintained by a third party, and uploaded to this page to help users provide their email addresses. You may be able to find more information about this and other similar content on piano.io