World Famous Siblings With New Bike Selling Website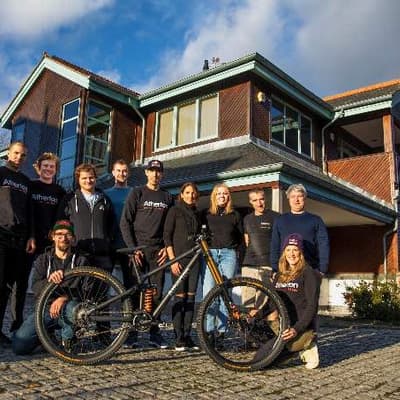 A DYFI-based bike company is going from strength to strength with global support.
Atherton Bikes, which was founded in January 2019 when the UK's top mountain bike family teamed up with entrepreneur Piers Linney of Dragons' Den, has now launched its own direct-to-consumer website and completed his move to Machynlleth after securing funding.
Dan, Gee and Rachel Atherton are the most decorated siblings in international sport with eight World Championships and 49 World Cup victories to their name. They wanted to push bike technology as hard as they had pushed their riding and so created a revolutionary product using additive manufacturing technology from the F1 and aerospace industries.
Dan and Rachel both live in Pantperthog – the home of Dyfi Bike Park which is not only the ideal proving ground for the company's bikes, but which attracts thousands of cyclists to the area each year.
The company spent just over three years testing and developing both the performance of the product and the support technology that perfectly matches its bikes to a rider.
They have been supported in their growth by the Development Bank of Wales's angel investor network, Angels Invest Wales, who have helped them raise £76,000 in equity investment. An additional investment of £76,000 was completed by the Wales Angel Co-investment Fund to help set up the business.
In November 2020, they also launched a hugely successful crowdfunding campaign with Crowdcube which overfunded in just 24 hours. The £1.4m investment has enabled the company to accelerate its relocation and recruitment plans with a move to Machynlleth. They are now ready to offer online shopping to customers around the world.
At launch they will offer two models, a World Cup winning downhill bike with 200mm of travel and a refined new version of the 29er, 150mm Enduro bike.
Dan Atherton said: "We have always wanted to base our manufacturing in Machynlleth, there is such a rich heritage of mountain biking in the area and the people here have welcomed us with open arms. This region means a lot to us and the more we can do to help qualified young people find work in Wales, the happier we will be.
Atherton bikes are made using additive manufacturing (titanium 3d printing). This advanced technology is widely used in Formula 1 and the aerospace industry, but is still relatively unknown in mountain biking.
The new website will host a customer fit calculator that suggests one of an extended range of standard sizes (22 for enduro, 12 or downhill) or there is a custom option for a millimeter-accurate match. .
World Champion Rachel Atherton said: "Each bike is made to order and built to last, so there's no waste. We all love to see our bikes on the trails, we are still in start-up mode, but hopefully this next phase of our business development will give many more people the chance to try our bikes.